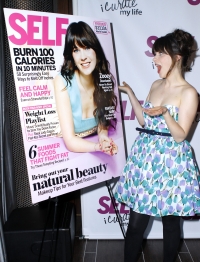 As the cover girl,
Zooey Deschanel
was the focus of attention at the launch of Self magazine's July issue. Inside the issue, she shares her tips for leading a happy and healthy lifestyle.
On getting to know yourself: "Most people spend too much time comparing themselves to others….Get to know yourself a little bit better. Stop and ask yourself a few questions, and think about you."
On why she works out: "A lot of people work out to be skinny. That's so boring, and it seems like a depressing goal for a modern woman. I work out to be healthy and because I like it. I do sports or classes, things that engage my mind. If you're active, fitness will follow – and probably a good figure, too."
On advice she'd give her former self: "If I could give my teenaged self any advice, it would be 'Calm down!' In fact, if I could relive one day of my life, it would be the worst day of seventh grade, just so I could appreciate how much better life is now."
Go behind the scenes of Zooey's cover shoot and check out the video from Self Magazine.
Check out some photos from the event held July 15, 2011 at the Ganesvoort Park Avenue in New York City.