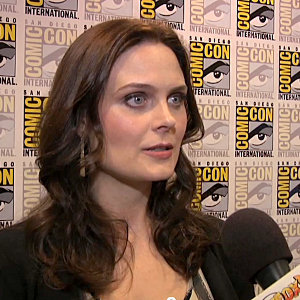 Fans gathered at the San Diego Comic Con for this year's Bones panel with guests Emily Deschanel, David Boreanaz and Stephen Nathan. Discussion included a little bit of season finale recap and a whole lot of talk about what could be in season 8. The extended season 8 will include 26 episodes. Cam will find a new love interest and there will be an undercover episode involving ballroom dancing.
Check out the Bones Season 8 Comic Con Reel.
http://youtu.be/awFJ7CD62HY
Check out the Press Room interviews with executive producer Stephen Nathan, and stars Emily Deschanel (Dr. Temperance Brennan) and David Boreanaz (Special Agent Seeley Booth).
http://youtu.be/9CtyFycachU