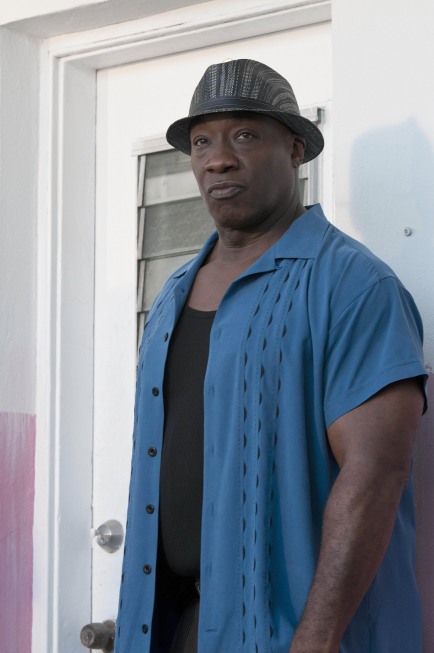 Oscar nominated actor Michael Clarke Duncan passed away Monday September 3, 2012, he was 54 years old. Duncan suffered a heart attack in mid-July and was hospitalized in the intensive care unit for over a month. He never truly recovered.
He is most well know for his role along side Tom Hanks as John Coffey in The Green Mile, for which, he was nominated for an Oscar for Best Supporting Actor. You might also remember him as Bear in Armageddon, Attar in Planet of the Apes, Balthazar in The Scorpion King, and The Kingpin in Daredevil.
On television, Michael Clarke Duncan was last seen co-starring as Leon Knox with Geoff Stults on the Hart Hanson created Bones spin-off, The Finder.
On Twitter, his friends and co-workers continue their outpouring of grief, remembering their friend who epitomized the term gentle giant.
R.I.P. my friend MCD. I will miss you.

— David Boreanaz (@David_Boreanaz) September 3, 2012
MCD,your infectious laugh&larger then life love will be greatlymissed.Your memory will live 4ever in your beyond moving moments on screen!:(

— TJ Thyne (@TJThyne) September 4, 2012
R.I.P Michael Clarke Duncan. Blessed be…

— Tamara Taylor (@TamaraTaylor) September 4, 2012
Michael Clarke Duncan was a truly great guy. Funny, friendly and talented. I'm going to miss him.

— John Francis Daley (@JohnFDaley) September 3, 2012
RIP Michael Clarke Duncan. A gentle giant w/a great smile whom I had the pleasure to meet briefly. My thoughts are with his family. Sad day.

— Eugene Byrd (@Vududaddy) September 4, 2012
Rest in Peace Michael Clarke Duncan. So sad to hear of his passing at such a young age.

— Pej Vahdat (@pejvahdat) September 4, 2012
Like everyone who ever met him, I'm going to miss our great pal Michael Clarke Duncan. Such a sad sad day… http://t.co/fqzzNSSE

— Hart Hanson (@HartHanson) September 4, 2012
Michael Clarke Duncan RIP. You will be missed.

— Stephen Nathan (@squarechicken) September 3, 2012
RIP Michael Clarke Duncan, you'll be missed. Never stingy with a smile or a laugh. RIP pic.twitter.com/n35y3XSA

— Josh Levy (@mosh426) September 4, 2012
RIP MCD … Always with that great big smile. You will be missed. My Heart goes out to his loved ones and the #Finder family #RIPMCD

— Maria Danger (@MariaDanger9) September 3, 2012
So young. So sad. RIP Michael Clark Duncan. What a voice.

— Kathy Reichs (@KathyReichs) September 4, 2012
Oh how sad. Michael Clarke Duncan has gone. The very epitome of a gentle giant. http://t.co/WZoaHk4z

— Stephen Fry (@stephenfry) September 4, 2012